School Dinners
Your child can have a school meal at lunchtime or bring a packed lunch if preferred. School meals are provided by Dolce who work closely to nutritional guidelines for schools. The lunches are prepared in the Hollybrook Infant School kitchen and delivered to school each day.
Menus are also available from the school office and meals can be pre-ordered by parents in advance.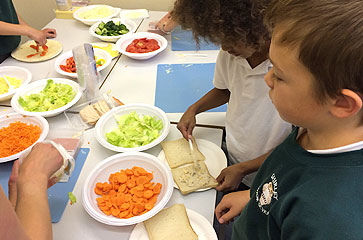 Payments and pre-orders must be made through the SchoolGrid web app: https://app.schoolgrid.co.uk/
Meals cost £2.30 per day.
SchoolGrid Account
If you would like your child to have school meals, you will need a SchoolGrid account. You will receive an email from SchoolGrid, our software providers, with all of your necessary login details. By accessing SchoolGrid online you will be able to pre order meals, view recipes, allergens, ingredients and make payments.
SchoolGrid is the Software provider Dolce use. If you experience any technical issues with access to SchoolGrid, please contact SchoolGrid technical support on 01506 300310 or by email to support@schoolgrid.co.uk
Free school meals
Your child may be entitled to free school meals if parents are in receipt of the following;-
Income Support
Income-based Jobseekers Allowance
Child Tax Credit (Conditions apply)
Working tax credit
Support under Part V1 of the Immigration and Asylum Act
The Guarantee element of State pension Credit
How to apply
If you wish to check whether you are eligible please either visit
or search for "Southampton Free School Meals".