House Competitions
House Competition Number 1 for 20/21 coming soon...
Virtual House Competition #3 - Shirley's Got Talent
It wouldn't be an end to the year at Shirley Junior School without our annual talent show. The House Captains have worked hard to ensure that we can still celebrate the huge range of talent we have at our school and end the year with a bang!
There will be 2 rounds - initial auditions which will be judged by Mrs Booth and the House Captains on Monday 6th July. From that first round there will be 8 contestants brought to the final (and one golden buzzer courtesy of Mrs Booth!) - these contestants will have some email coaching from their house captains before submitting their videos on 12th July to be judged by the big 4 and our SJS public.
Watch out for the finalists video on Wednesday 15th July and find out which house is reigning champions at the end of 2020 in SJS!
Send your talent auditions (singing, dancing, gym, sports, music, magic, comedy.... the list is endless!) to teachers@shirleyschools.co.uk by Sunday 5th July to be in with a chance of winning SJS's got talent 2020.
Virtual House Competition #2 - weekly Taskmaster!

'The Taskmaster' returns to Shirley Junior School for the final summer term of Problem Solving - get your brains thinking outside of the box and get creative when solving the tasks set by your taskmasters (your house captains!) each week. For the next four weeks, tasks will be uploaded here on a Monday morning and we ask that all entries are sent to teachers@shirleyschools.co.uk by the following Saturday. A simple mash up of entries and the top 5 winners will be added to the website alongside the new task each week.
RULES - Get your adults permission, Be safe, Do not break any rules or laws, Get creative and most importantly - have fun. (ALL tasks are open to interpretation!)
Every entry earns 5 hp for their house team. The chosen 'top 5' by the task masters earn; 1st 200 hp, 2nd 100 hp, 3rd 75hp, 4th 50 hp and 5th 25 hp.

HAPPY TASKING! :)
THE RESULTS - CONGRATULATIONS TAWNY OWLS! You won taskmaster challenges overall!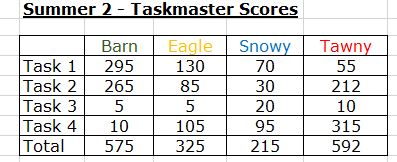 Taskmaster Challenge 4 - The final task!
THE RESULTS!
Taskmaster Challenge 3
THE RESULTS!
Taskmaster Challenge 2
THE RESULTS!
Taskmaster Challenge 1
THE RESULTS!


Virtual House Competition #1
The Challenge: A virtual relay!
Each house to create a relay video (just like the toilet rolls being kicked from person to person!) of children passing an item of their house colour after doing some form of active exercise.
The Rules:
1. Videos must be no longer than 6 seconds long (or we could end up with a SUPER long relay!!!!).
2. Wear your house colours if possible and pass any object the colour of your house too.
3. The object should come INTO your right hand, you do some exercise with it and then it LEAVES your left hand.
4. Send your video (with your adults permission) to the teachers@shirleyschools.co.uk email by Monday 25th May.
5. Each entry automatically receives 5 house points and extra points for creativity are also up for grabs (watch the scores increase on the house page!).
6. Have fun, enjoy and may the house with the longest relay win! :)
Useful information:
Barn - Green
Eagle - Yellow
Snowy - Blue
Tawny - Red

Items that can be used: soft toys the colour, jumpers, balls - be creative and find SOMETHING that is your house colour.
RELAYS will be live on Monday 1st June on the house page!!
THE RESULTS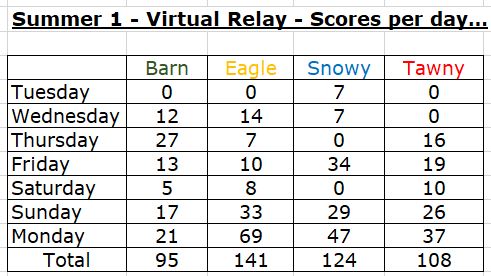 EAGLE OWLS 1st - 1000 hp
SNOWY OWLS 2nd - 750 hp
TAWNY OWLS 3rd - 500 hp
BARN OWLS 4th - 250 hp
Scroll to the bottom of the main house page to watch the relays.